Description
Izolowany klucz nastawny YT-20940 posiada:
Regulowane szczęki w zakresie 0-30 mm
Część roboczą o długości 200 mm, wykonaną z wysokiej jakości wytrzymałej stali CrV
Wielokomponentową rękojeść z certyfikatem VDE, która zapewnia izolację do 1000 V AC
Antypoślizgowe właściwości, dzięki mikrochropowatej zewnętrznej warstwie izolacji VDE
Izolowany klucz nastawny YT-20940 został przetestowany w akredytowanym przez niemiecki instytut kontroli VDE laboratorium i spełnia wymagania normy EN 60900
Intended use / Application
Narzędzia z certyfikatem VDE to gwarancja bezpieczeństwa podczas wykonywania prac przy instalacjach elektrycznych, czy urządzeniach będących pod napięciem do 1000V. Narzędzia YATO VDE posiadają właściwości antypoślizgowe, a seria pełnoizolowana doskonale sprawdzi się podczas pracy przy materiałach podatnych na zarysowania. Izolacja VDE nie tylko skutecznie chroni przed porażeniem prądem, ale również zabezpieczy użytkownika przed przypadkowym porysowaniem materiałów z tworzywa sztucznego czy metali kolorowych takich jak miedź, mosiądz czy aluminium.
NARZĘDZIA YATO VDE NAJWAŻNIEJSZE CECHY: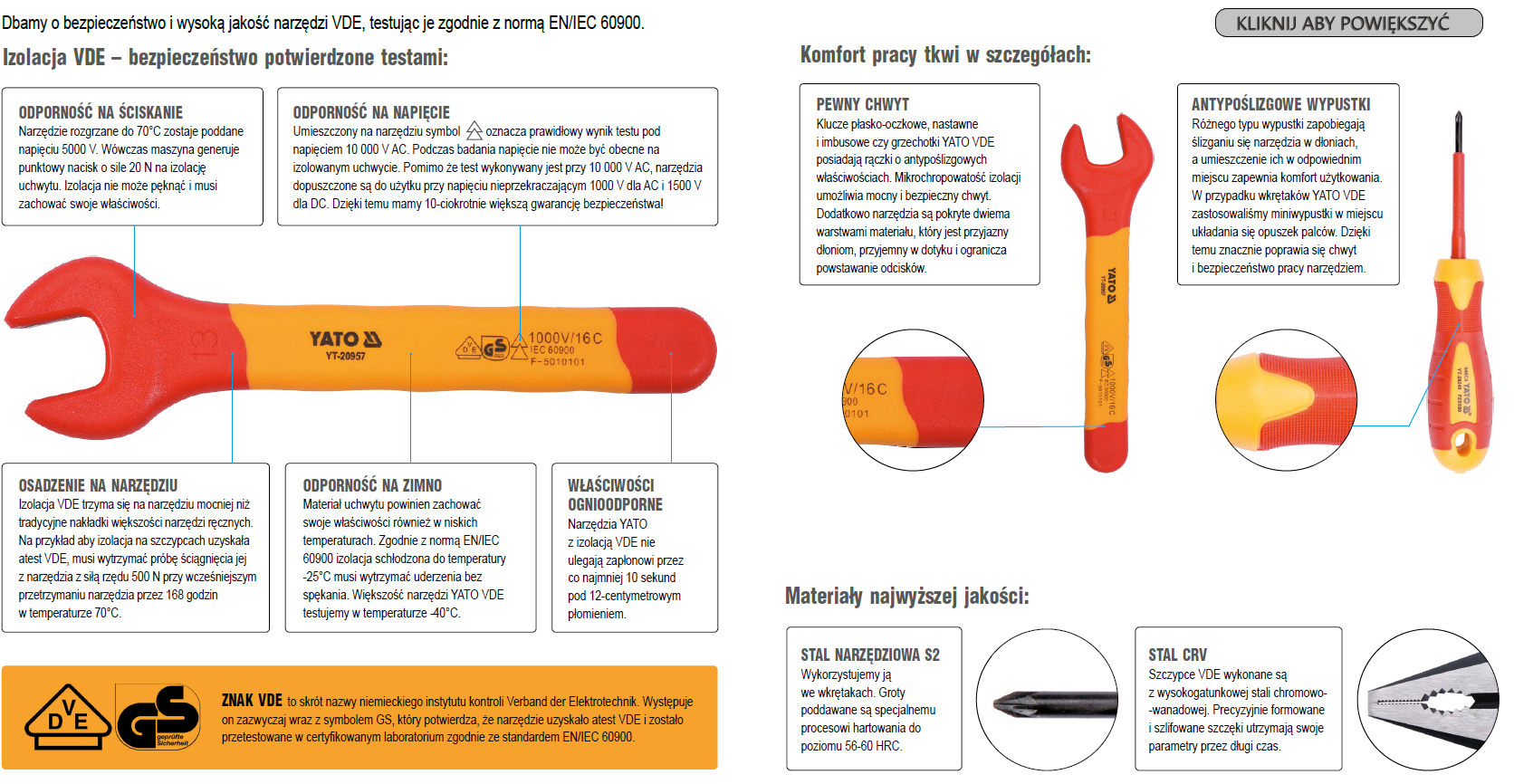 Sprawdź również inne narzędzia VDE
Technical data
| Symbol | YT-20940 |
| --- | --- |
| EAN | 5906083001390 |
| Brand | Yato |
| weight (kg) | 1.0000 |
| Material | CrV |
| Standard | EN 60900:2012 |
| Size [mm] | 200 |
YATO - IN AGREEMENT WITH TECHNOLOGY
Durability, perfection of execution, excellent materials and high quality steel are the main technical features of YATO products, which can be used in three fields: car repair workshops, construction and garden. Hand and pneumatic YATO tools are successfully used by specialists from many fields of industry. Unique durability and resistance of YATO tools destined them for heavy duty industry and service applications.
TOYA SA based in Wroclaw, ul. Sołtysowicka 13-15, postal code 51-168, entered into the Register of the National Court Register maintained by the VI Economic Division of the District Court for Wrocław - Fabryczna under the number KRS 0000066712, the share capital fully paid 7 833 084.10 zł; NIP: 895-16-86-107; No. Regon: 932093253
All materials, in particular images, banners, video materials, drawings and texts published on the www.yato.com are protected by copyright and may not be copied, published, and use in any manner without written permission of TOYA SA